Jurgen Klopp is confident that Liverpool will be back stronger next season and has told fans to book the hotels for next year's Champions League final in Istanbul.
Liverpool were denied a seventh European crown as Real Madrid became kings of the continent once again thanks to Vinicius Junior's strike in a Champions League showpiece marred by chaos outside the Stade de France.
Kick-off had to be delayed by 37 minutes due to substantial security issues outside the stadium in Paris, where Liverpool were eventually edged out 1-0.
Klopp's Reds were unable to find a response to the second-half strike as Carlo Ancelotti, managing in a record fifth Champions League final just a year after leaving Everton, oversaw the Spanish giants' 14th European Cup triumph.
It was a heartbreaking end to a memorable season for Liverpool, who won the Carabao Cup and FA Cup before being pipped to the Premier League title by a point by Manchester City and losing in the French capital.
Klopp, however, has full confidence in his team to come again next season.
"It's not bad to get to the final – it's kind of a success although not the success you want to have," he told BT Sport.
"I have a strong feeling we will come again. The boys are really competitive and are an outstanding group – they will be that again next season. And we go again. Where's it next season? Istanbul? Book the hotel!"
"The mood in the dressing room makes it feel like not a great season in this moment – we'll need a few minutes or hours for that," he added.
"We played a good, not a perfect game. A perfect game wouldn't have been possible with how the opponent set up with the deep formation, counter-attacks and long balls – that was tricky. Like the disallowed goal in the first half was a long ball that we couldn't defend in the first place. We had a lot of shots but not the clearest – only three forced (Thibaut) Courtois into top saves.
"We conceded a goal from a throw-in. (Federico) Valverde wanted to shoot, Vinicius was there and that's it.
"The boys tried everything, especially at 1-0 down then we played like we wanted to play before. We had our midfielders too deep. It's a threat they are with counter-attacks. We wanted to be more brave in the second half. That's what we said at half-time. We played around them. We should have played more in the formation than around them."
Ancelotti: I am the record man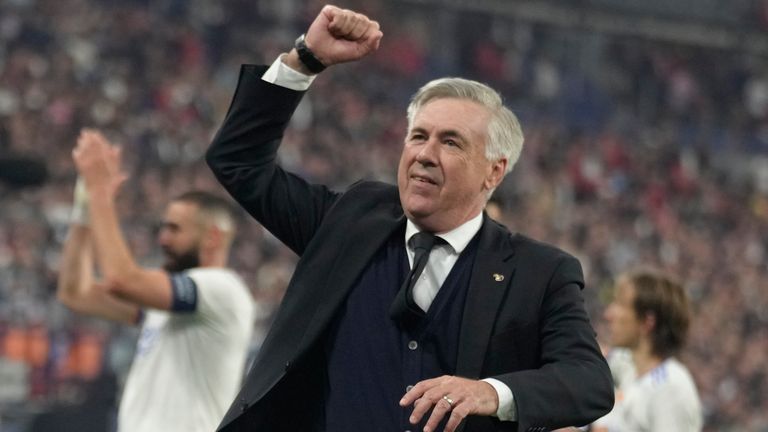 Real Madrid boss Ancelotti described himself as "the record man" and hailed his side's victory as he became the first manager to win the Champions League for a fourth time.
"I can't believe it. We've had a fantastic season," he said.
"We suffered a lot in the first half but in the end we deserved to win this competition.
"I am the record man. I had the luck to come here last year and found as usual a fantastic club with a really good squad with a lot of quality and mental character.
"The season was top."